Quality Standards and Seals
Care and reliability signed and sealed
Quality is our capital. Constant innovation and the introduction of new technologies guarantee you the best possible meat. Critically selecting raw materials is extremely important to us, and only selected suppliers will guarantee us high-quality animals to use. In addition, raw materials are only ever processed in accordance with high hygiene and process standards at Baumann GmbH & Co. KG.
This gives our products their uniqueness and outstanding quality. The yardstick is the market's rising demand for safe products in perfect condition. As well as complying with the International Featured Standards-Food (IFS), we employ other tools for flawless quality assurance and train our staff regularly.
HACCP guarantees excellent hygiene standards
Hygiene and quality are essential in the meat production industry and for this reason our company has its own food chemist, who checks the quality of our products. This is carried out in cooperation with the University of Giessen. We monitor and control hygiene using the HACCP system, which means our customers can always be sure they're only getting the best meat. The HACCP (Hazard Analysis and Critical Control Points) model has been compulsory for all enterprises in the food industry since 1st January 2005.
It involves all the critical points during the production process that have a crucial influence on hygiene and product quality being documented. Clear limits and measures are defined here and must be complied with without compromise. Our meat is also halal certified. Having a large number of satisfied customers with a Muslim background encourages us to meet this standard reliably.
Play it safe
Regardless of whether your goods are loose or packaged, you will always be able to determine whether they are Baumann products from the label.
If there is no specific producer's name on the label, the company's approval number definitely will be.
---
Baumann's number is DE-HE 10125 EG
In the case of packaged goods, this number appears on the label. When it comes to hanging or loose goods, it is stamped onto the goods themselves.
Place your trust in outstanding quality!
---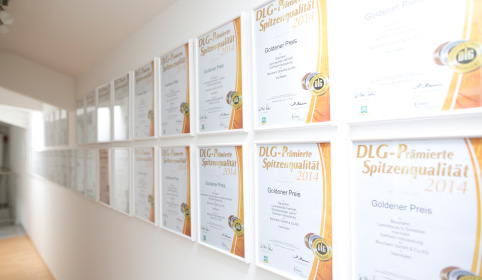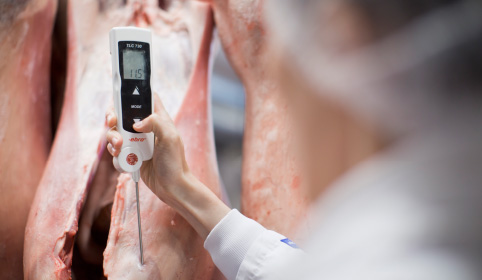 ---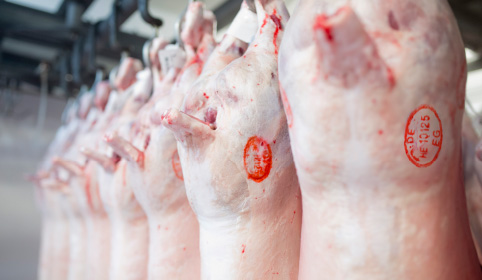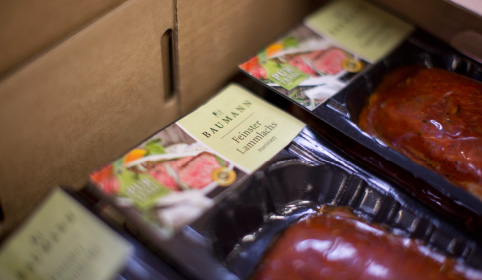 ---
The PURE® quality seal for premium-plus quality
Baumann meat is excellent premium meat. It is pure, genuine, natural and unadulterated – and that applies to all our products. In addition, we mark supreme meat from very special pedigree animals with our PURE® quality seals.
Only meat from very exclusive breeds is given one of these seals, and the best possible feed, species-specific husbandry and time for the animals to recover from their journey to our premises before they're slaughtered guarantee consumers the pleasure of enjoying pure premium-plus meat.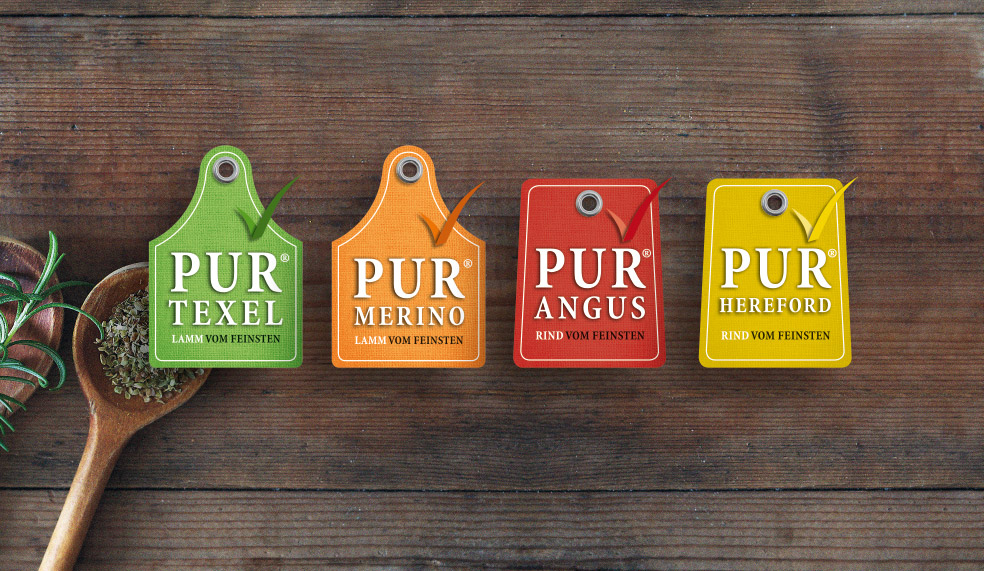 ---
Pure Texel®
The legendary Texel lambs originate from the North Sea island of Texel in the province of North Holland. From there, they were distributed all over Holland, the German North Sea coast, Schleswig-Holstein, and eventually throughout the world. The secret of this sheep breed is its outstanding flavour. We get our Texel lambs from the North Sea region, Schleswig-Holstein and Holland. They are kept right on the North Sea coast, where the air and salty earth are able to give the meat an outstanding, slightly salty taste.
The lambs are raised on farms that offer them generous pastures to graze on. Authentic Texel lamb meat comes from lambs that are at least a hundred days old, meaning the animals have had over three months to roam around the extensive pastures and enjoy the grass. Combined with the unusual climate, this gentle rearing makes the meat an exquisite gourmet delight. Try it and experience it for yourself. You'll love the fact that it's so tender.
Pure Merino®
Merino sheep are originally from Spain. In the 18th century, they were brought to Germany and have now been distributed as far as Australia. Constituting about 30% of Germany's sheep population, it is the most common breed. It is raised predominantly in the southern and eastern parts of the country, and also on rough and barren pasture of low mountain ranges. Only known for its high-quality wool to start with, the merino sheep is now prized for its excellent meat as well, which is extremely fine-grained and tender.
The meat is ideal for grilling, braising and roasting, because it is lean but perfectly marbled and possesses a mild flavour. Species-specific husbandry, careful breeding and humane slaughtering make Pure Merino® lamb a hearty savoury delight. We get our lambs from Germany and import selected merino meat from Australia. Our supplier there slaughters lambs exclusively for us.
---
We only purchase our lambs from selected suppliers: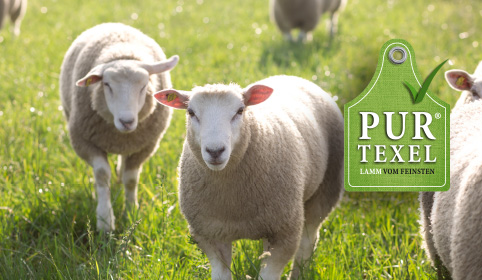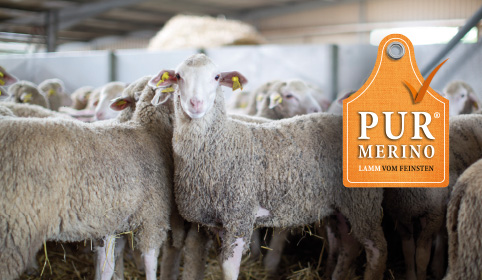 ---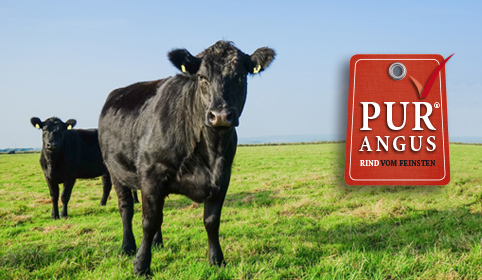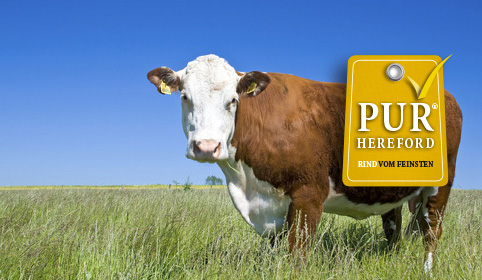 ---
Pure Angus®
Angus is a county in eastern Scotland on the coast of the North Sea. It was from here that the black, hornless Angus cattle were distributed all over the world. They are now bred across the globe and especially in the USA, Australia, Ireland and Uruguay.
The epitome of high-quality beefsteak
The meat of Angus cattle is bright red, fine-grained and nicely marbled, and thanks to its short fibres, it remains beautifully tender and juicy if care is taken when grilling or frying it. The animals are allowed to free range in natural environments for the majority of their lives. Calves grow up with their mothers, and from the spring until they're brought down to lower ground in the autumn, they drink healthy mother's milk and feed on fresh pasture grass.
Constantly living in the open countryside means the animals grow slowly, which improves the quality of their meat even more. The unique quality of Angus meat is the result of successful breeding, near-natural husbandry, natural feeding – and, last but not least, humane slaughtering that neither stresses nor excites the animals. The final step of achieving this outstanding quality standard involves hanging the meat in a special refrigerated room to allow it to mature and become extremely tender while developing its full flavour. We don't slaughter any cattle ourselves. Instead we import the best Angus meat from selected slaughterhouses:
• www.creekstonefarms.com
• www.nationalbeef.com
• www.kildarechillingco.ie
Pure Hereford®
The first Hereford cattle were bred by the British as early as the 17th century. What was originally a working cow became a very effective beef cow. The animals are extremely undemanding, adaptable and climate-tolerant, and these qualities mean the Hereford is now the most widespread beef cattle breed in the world. Hereford cattle are able to adapt brilliantly to the conditions of nearly every continent and today are reared in Australia, North and South America, New Zealand and South Africa in particular.
Tender nature – tender meat
Hereford cattle make excellent use of their feed. The docile animals are immensely friendly and easy to care for, and their meat is of exceptional quality too. A remarkably short-fibred beef, its marbling and delicate flavour resemble those of the Angus, and it is among the most tender on the planet.
• www.kildarechillingco.ie
---